Facilities
Thanks to our lighted indoor arena, lessons go on,day or night, rain or shine.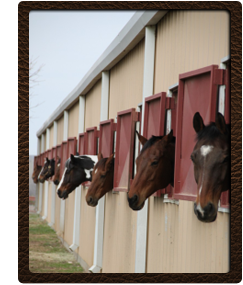 We also have a fenced outdoor arena, a beehive of activity on every clear day.

Curragh Equestrian Center sits on 145 acres of land. This provides horses and riders with open pasture land, which doubles as our cross country course complete with breathtaking sunsets. Many times you will see riders enjoying a relaxing ride through our groomed, wooded trails.

When beginning riders are ready to learn to jump outside of an enclosed arena, Curragh also provides a "modified cross-country" course. This 2.5 acre course is designed with very low jumps that have that same natural look, (logs, low walls, tree trunks, etc) as the full cross country course. Adjacent to the indoor arena are the stalls of the main barn, as well as the Curragh office. You will also notice several solid fence paddocks, provided for boarder's horses.